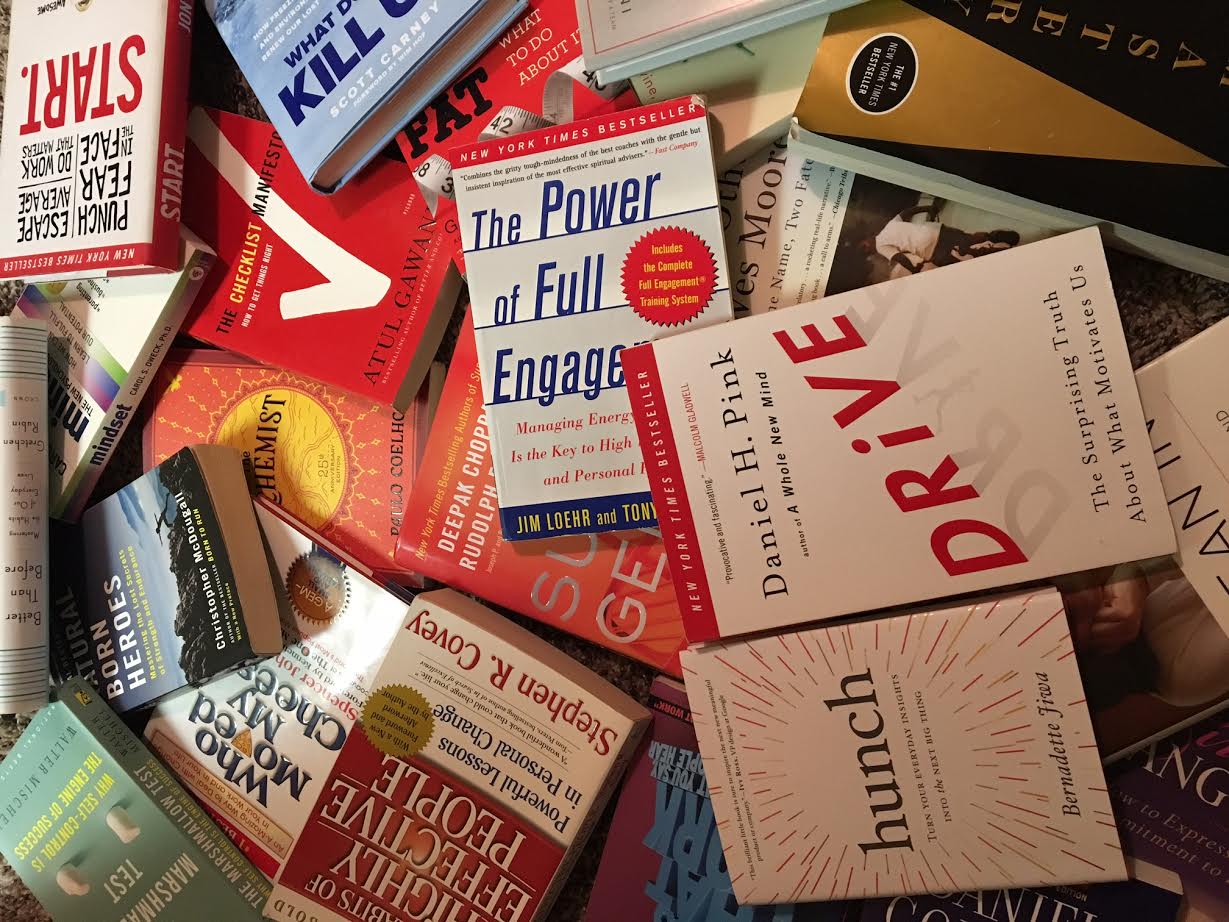 I'm halfway to reading my goal of 52 books in 52 weeks and I have to say- it is getting easier.  (The fact that I can work toward achieving a goal while lying at the pool helps)  My plan is to review the books I read in groups of thirteen.  Below is the second group and a description of my ratings.  Check out the first thirteen as well, there are some must-reads reviewed.
Ratings out of 10:
10:  These are books that I think everyone should read.  I take the 10/10 rating seriously.  These books transformed some aspect of my life.  I will tell you to read these books regardless of whether you ask for a suggestion or not.
7-9:  These are books I will recommend when asked.  I enjoyed them and think they are worthwhile.  I will bring these books up in conversation, refer to them, but they did not have the impact of those with a 10/10 rating.
4-6:  These books provided some value, but I wouldn't recommend them.  Either I did not like the presentation of the book or I didn't think the content was new or different.
Under 4:  I finished these only because I started them.
14. Crush It: Why Now Is The Time To Cash In On Your Passion by Gary Vaynerchuk
Rating: 7/10
Category: books for when you're stuck
Review:  If you've seen any of Gary Vaynerchuk's videos than you will definitely enjoy his book.  It is from 2009 so some of the book seems older, but still relevant.  This is a great book if you are hesitant or need a push toward going after what you want.  However, if you are already working toward what you want or don't yet know what you want then this book won't be especially helpful.  The book includes many platitudes instead of specific actions.  He answers the question of why, but never goes further into the how.  All in all it was motivating, but I'd probably watch his videos or follow him on Facebook instead.
15. Tribes by Seth Godin
Rating: 8/10
Category: books that make you think
Review: I love Seth Godin's blog and his books are very similar.  He makes succinct points, yet leaves you thinking long after.  Tribes discusses the way in which humans have an innate need to be a part of something bigger than themselves.  It goes on to explore how to get people to join a tribe and stay loyal to its leader.  The book is necessary for anyone in business, education, or a position of leadership.
16. The Naked Presenter by Garr Reynolds
Rating: 8/10
Category: books for info/ books that make you think
Review:  The Naked Presenter dives deep into the art of public speaking.  The stories and examples are captivating and his knowledge is enlightening.  This book addresses the art of persuasion, storytelling and communication as a whole making it a great read even if you aren't planning on speaking publicly.
17. The Courage To Teach by Parker J. Palmer
Rating: 9/10
Category: books that make you think
Review: The Courage To Teach was not an easy read, but nonetheless worth it.  It wasn't difficult to read because of its content, but because of the depth of its content.  I could only digest a chapter at a time and found myself still thinking about what I read hours later.  The book is incredibly profound for teachers, but also for individuals.  It caused me to look within myself and question things I considered inalienable truths.  While the hardest book I've read this year, it has been one of the most rewarding.
18. The Millionaire Mind by Thomas J. Stanley
Rating: 9/10
Category: books that make you think / books that motivate
Review:  If you are an entrepreneur or an aspiring entrepreneur then this is a must read.  It uses statistical comparisons to demystify the traits and habits of the wealthy.  It completely changed my perception of the typical millionaire.  The book was not only thought changing, but also inspiring in the process.  Your entrepreneurial spirit will be strengthened with this read.
19. Hyperbole and a Half:Unfortunate Situations, Flawed Coping Mechanisms, Mayhem, and Other Things That Happened by Allie Brosh
Rating: 9/10
Category: books to unplug
Review:  I think I want to be friends with Allie Brosh.  In this book, she is witty, uncensored, and honest.  I laughed out loud and found myself relating to most of the book.  Her illustrations are so simple, but somehow magnify the humor.  If you're ever getting work done at Barnes and Noble and need a break, go grab her book- that's what I did.
20. Leaders Eat Last by Simon Sinek
Rating: 9/10
Category: books that motivate/books that make you think
Review: Simon Sinek has this incredible ability to put things into words that most of us only have an emotional concept toward.  The concepts of his other book (Start With Why) are still with me years later and I think the same will prove true of Leaders Eat Last. Don't be turned off by the title if you don't consider yourself a leader.  After reading, you'll realize that you are or at least can be one.  Both his books are engaging with applicable stories to every point he makes.  It is non-fiction, but the stories throughout make it enjoyable and relatable.
21. Milk and Honey by Rupi Kaur
Rating: 8/10
Category: books that make you feel
Review:  This book was given to me and I am still processing my feelings toward it.  It was a book of poems that were raw and emotional.  I not a connoisseur on poetry and the last exposure I had to poetry was the sonnets of 11th grade English.  So, I'm not sure my review means anything.  Regardless, I finished the book of poems feeling uncomfortable and emotional, so I guess that's good poetry?  If you like poetry or are looking for something different, give this a try.
22. The Power of Full Engagement: Managing Energy, Not Time, Is the Key to High Performance and Personal Renewal by Jim Loehr, Tony Schwartz (re-read)
Rating: 10/10
Category: books for when you're stuck
Review: From PT school and on, I've read this book once a year.  Like when you drink orange juice at the first sign of a cold, I read The Power of Full Engagement at the first sign of feeling burnt out.  With all the books out there on how to get more time out of your day, this book teaches you how to bring energy to that time and get the most out of it.  The book chronicles case studies struggling in different domains of performance and helps its readers figure out what is holding them back.  Whoever you are, you need to read this book.
23. How Emotions Are Made: The Secret Life of The Brain by Lisa Feldman Barrett
Rating: 9/10
Category: books that make you think
Review:  At the beginning, I didn't think I was going to make it through the 450 pages of How Emotions Are Made.  But, I was wrong.  What seemed like dry theory at the beginning was ignited as the book continued.  Most of the concepts were novel and gave me a new appreciation and understanding for emotions.  I was able to make connections between emotions and movement.  I think the book will apply to so many fields.  She gives simple examples that make the difficult concepts easy to follow.  This turned out much better than I expected and I would recommend it highly.
24.  The Checklist Manifesto: How To Get Things Right by Atul Gawande
Rating:9/10
Category: books that make you think
Review:  The Checklist Manifesto was one of those books that kept coming up in my life.  In different situations, people were referencing it.  I decided I needed to read it and it did not disappoint.  I'm the type of person that hates lists and so by default assumed I'd feel the same about checklists. I don't.  I love them.  Any medical professional will appreciate this read, but I certainly think many others will as well.
25. Hunch: Turn Your Everyday Insights Into The Next Big Thing by Bernadette Jiwa
Rating: 8/10
Category: books that motivate
Review:  I was not sure how to rate Hunch.  On one hand, some of what she discusses I have heard before in Mindset, Made to Stick, or TED talks.  On the other hand, this book uses the examples very well to make the case for finding and trusting the ideas you have.  The best part of this book is that she provides novel reflection exercises and writing prompts to help you recognize your next great idea.  The book is worth it just for the exercises, but was a great read on its own.
26. Mastery by Robert Greene
Rating: 10/10
Category: books that motivate
Review: I like to underline important, thought-provoking, or worthwhile lines while I read.  I underlined 90% of this book (give or take a few).  At a time when my impatience seems to be growing, this book was a needed reminder of the path to mastery.  The examples provided were unique and proved the principles presented.  I found myself nodding in agreement.  This book is for everyone looking for mastery.
I still have 26 books to read this year and so far people's recommendations have been awesome.  If you have a 10/10 book you've read, please share below!